So, who said that Lego bricks were only for kids? When I was growing up, this type of
games were mostly considered for boys. These days, there's a huge number of grown-ups crazy about them, so brick games have evolved from the classic pirate boat to something more sophisticated, with many specialised pieces. As Nathan Sawaya has proved, art is an option too.
I had a wonderful at the Art of the Brick exhibition in London, where I marvelled at the long hours the artist must have spent designing and creating the sculptures that were being exhibited and the brilliant output of his imagination and skill. The brick count goes from around 1,500 to more than 80,000, with most of the sculptures being quite big.
Take a look at some of the sculptures that I could see, including my faves below. I took the pictures with my mobile. Which one is your favourite? 
This is the artist, Nathan Sawaya:
At the start of the exhibition, there is a short movie where he tells us that he used to be a corporate lawyer in a previous life. He'd previously done arts at college, spending his own time building brick sculptures.
For him, it's all about wanting to do something and actually doing it, no matter how crazy it might sound.
Just create anything good in your life that you think it's worth doing. That looks like a Mickey Mouse, doesn't it?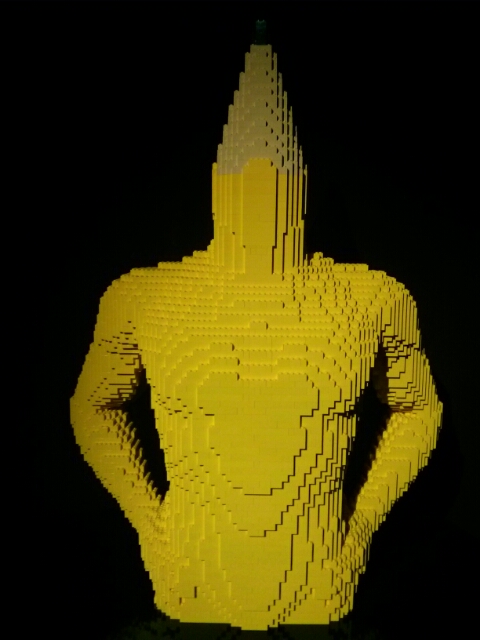 He tried to replicate classic sculptures. I hope you can see most of the the detail that I could appreciate in person, the muscles, clothes and other details.
The hand of his David is less unproportionate than in the real sculpture.
I thought it could be complicated to recreate the rounded areas in his recreation of Rodin's The Thinker.
Hands and faces can be so hard to get right. See some of the several sculpture of hands he exhibits.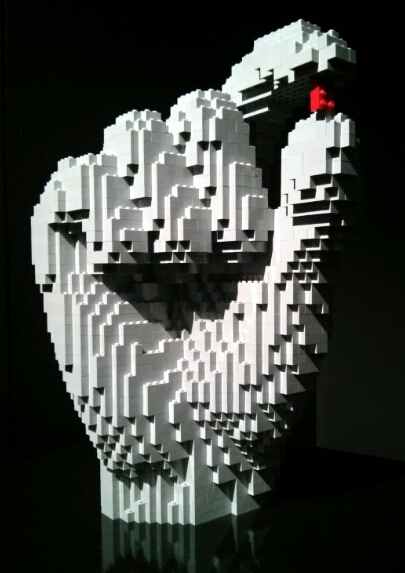 I loved the impressionism and expressionism area.
You can't seee it clearly, but the main figure is in 3D. This was a great one.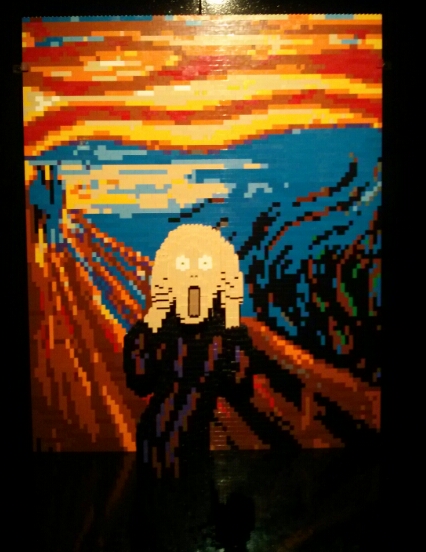 He's had a go at contemporary art. They look to me like the needle work tasks I had to do at school, only better.
Human emotions, the struggle of daily life are recurrent themes across his work.
I like the creativity in this one.
This other piece reminded me of the David Copperfield's sculpture at the Mme Tussaud's, which was also up on the air, playing with viewers' surprise. How did he get it up there?
It took him 15 days to create this swimmer.
Enhancing diversity.
Room for music too.
Inspired by a singer friend of his.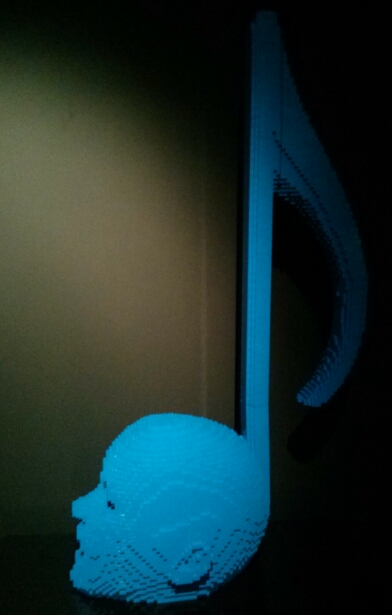 The Universe.
Dino! This piece has over 80,000 bricks! The tail is suspended with the help of some wires attached to the ceiling.
London room. He wanted to celebrate some of the most famous icons. The one below reminded me of my friend Yannick, as he does a telephone box tour.
I think this is a K2 type…
Look at the detail inside. There even is a brick phone!
Can you recognise the four figures below?
My faves
His challenge here was how to unite two sculptures. I say that happens with human beings too.
See more about Nathan Sawaya.
Thanks for visiting my blog today!
A Londoner from Afar